» Configuration examples ListControl
Configuration example 1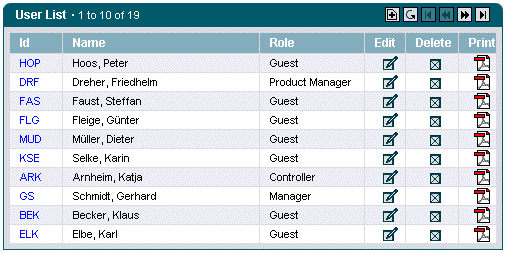 Configuration:
List with Add button (for adding new records).
List with Refresh button (for updating the list).
Display of maximum 10 lines per page.
Drilldown column (for going to the detail view of the data record).
Two text columns.
Edit column (for editing the data record).
Delete column (for deleting the data record).
Image column (for editing an image and triggering a user-specific action).
The instance of the ListControl is searched for under the name in the Scope (Session/Request). If the property-attribute is used, the Control is determined from the Formbean.
<ctrl:list
id="userlist1"
action="sample101/userBrowse"
name="users"
title="User List"
width="500"
rows="10"
refreshButton="true"
createButton="true">

<ctrl:columndrilldown
title="Id"
property="userId"
width="65"/>

<ctrl:columntext
title="Name"
property="name"
width="350"/>

<ctrl:columntext
title="Role"
property="role.value"
width="150"/>

<ctrl:columnedit
title="Edit"/>

<ctrl:columndelete
title="Delete"
onclick="return userlist1_onBeforServerSend();"/>

<ctrl:columnbutton
title="Print"
property="print"
image="app/images/imgPDF.gif"
align="center"/>
</ctrl:list>



Configuration examples

ListControl